Having a blog can increase website traffic and establish your business as a thought leader. Discover the eight ingredients that make the perfect blog post.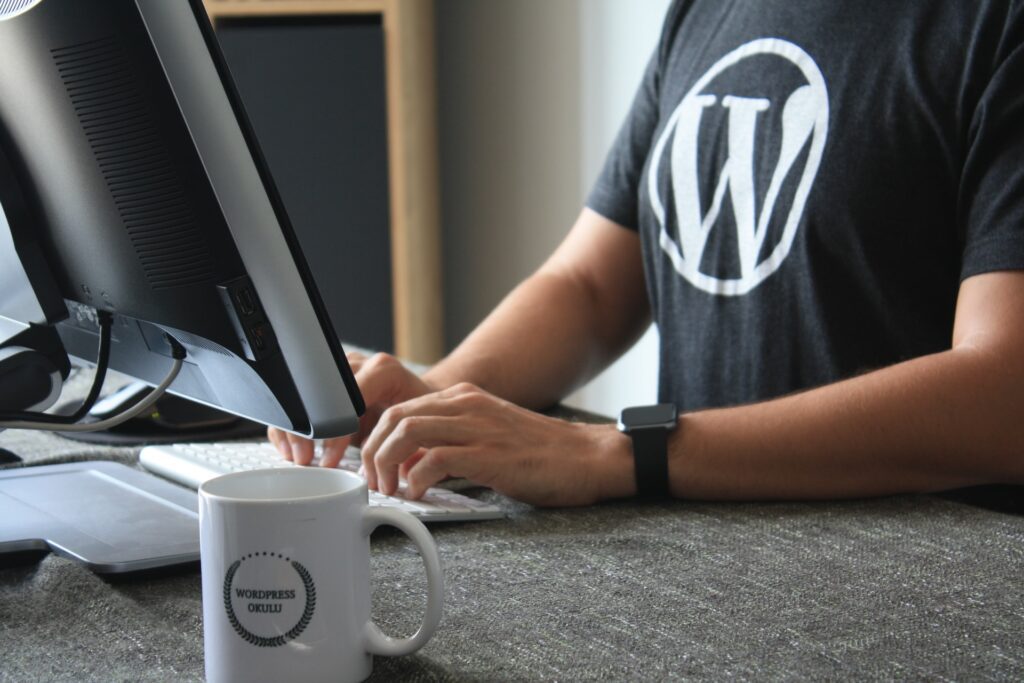 Did you know that 77% of Internet users read blogs? Blog posts are the backbone of many successful businesses. They are a powerful way to share your expertise with customers, build relationships with people, and establish yourself as an authority in your industry. But writing captivating pieces that resonate with your audience can be challenging. The first step to creating solid articles is understanding what makes them effective.
Want your audience—and search engines—to see your blog as an indispensable resource? Let's break down the eight essential elements that make an exceptional blog post.
1. Open with a Relevant Featured Image
A featured image draws people to your content by adding visual appeal. It helps readers understand what they are looking at before reading any of the text.
There are two ways to go about sourcing the perfect featured image for your blog post. If your business has custom photos, it would be best to use these. If not, there are plenty of resources where you can select stock images relevant to your blog post topics.
My go-to websites for quality stock images are:
2. Grab Attention with a Thought-Provoking Headline
You can make or break an article with your headline. Remember, first impressions matter—so make a good one! In the case of blog posts, headlines are what people see first. Make yours catchy and offer a solution to a problem. Be specific about who will benefit from reading your post and why.
The best headlines are not too lengthy and use powerful words. Power words appeal to readers because they evoke emotions and trigger curiosity. When a reader relates to what they see, they are more likely to click and read more. Here are some examples of headlines with excellent power word usage:
5 Profound Reasons You Should Start Freelancing Now
Overcome Imposter Syndrome with 5 Simple Strategies

Stumped on how to create a compelling headline? Try using this formula and feel free to rearrange the components:
Numbers + Adjectives + Target Keyword + Promise
You end up with something like this:
7 Easy Recipes Guaranteed to Impress Your Friends
How to Lose 20 Pounds Without Dieting

The formula is a good guide, but don't feel like you have to use it to a T every time. The goal is to get people interested, and then keep them engaged. Have fun with it!
3. Craft a Concise Meta Description
The meta description is an HTML tag that sits under the headline on a search result. When people browse through options on search engines, the meta provides a basic grasp of a web page's content.
Follow these golden rules to write a killer meta description:
Keep it brief – the sweet spot is between 140-156 characters.
Give your target audience a reason to click on the link by writing in a language that appeals to them.
Incorporate relevant keywords without overstuffing.
Let your reader know what they will get out of your post and why they should read it now.

A meta description for a blog article about motivating remote teams may look like this:
Motivating remote teams is not easy, but it is essential for reaching new heights in business. Learn how to foster a healthy, productive work environment.
This is a superb meta description because it:
Is 154 characters – the ideal length!
Has relatable words and language that invoke emotion and curiosity.
Suggests who the blog post is for (remote managers).
Includes a relevant long-tail keyword: motivating remote teams.
Closes with a call-to-action encouraging remote leaders to read more if they want to encourage productivity among their workers.

4. Break Up Text with Interesting Subheadings
Search engine-optimized blog posts vary in length and are often anywhere from 500-1500 words. Regardless of length though, they must be easy to read. Help your audience digest your content by using engaging subheadings throughout the post. This makes it easier for them to find what they are looking for quickly.
When coming up with subheadings, ask yourself:
Does this make me want to keep reading?
Does this break up text well and keep the blog post organized?
Do the subheadings reflect the body text below it?

5. Pack Value in Your Blog Copy
More often than not, people are looking for answers to problems when they visit blogs. With that said, your article should offer succinct solutions to these problems. Valuable content attracts more visitors and encourages them to return. Avoid injecting too many ads into your posts because they can tarnish credibility. Instead, use trending topics to generate helpful information that other people can use to make educated decisions.
6. Incorporate Internal & External Links
Links are important for any blog post—they can keep your readers engaged and add value to your content.
There are two types of links that you can include in articles:
External links are links to other websites and resources on the internet. Establish authority by pointing out other reputable sources that support your findings and statements.
Internal links are links to other pages or posts on your website. When done correctly, they can help people get information quickly. Incorporating internal links is a strategic way to get eyes on different pages within your website and reduce bounce rates.

7. Encourage Engagement with a Strong Call-to-Action
Wrapping up a blog post? Don't forget to drive engagement with a strong call-to-action (CTA)! A CTA is a phrase that tells your readers what to do next. Every article should have one because it turns readers into customers. Call-to-actions are not limited to selling a product. If you are a service-based business or even a lifestyle blogger, your CTA could be asking your audience to sign up for your newsletter or to follow you on social media.
Examples of strong call-to-actions include:
XYZ's official launch is on September 1! Sign up for our newsletter to be the first to receive updates.
Follow us on social media for more content about XYZ's product/service/idea.
Visit our website for more information on XYZ's product/service/idea.
Ready to begin your XYZ journey? Call us at XXX-XXX-XXXX to learn more about XYZ and how we can help you achieve ABC!

8. Measure Readability Before Publishing
A lot of people overlook readability, but it is one of the most crucial aspects of any blogging strategy. Before you hit 'publish,' measure your article's readability and aim for an 8th-grade reading level or below. Grade 8 is a common benchmark for readability because it means people of most backgrounds and education levels will be able to digest your content.
If your piece is too difficult to comprehend, readers may get frustrated and leave. Write at an appropriate reading level so people stick around until the end of your article!
An Effective Blog Post Engages and Converts
The foundation of a stellar blog post is just like any other good piece of content. It is well-researched, concise and easy to understand, and engaging at every turn. Elements like a compelling headline, internal and external links, and strong call-to-action help make blog posts stand out.
Consistent blogging is the cheat code for increasing ROI, building brand awareness, and getting more visitors to your website. But for many, this ongoing task consumes too much time.
Would you like to free up time to accomplish more for your business? Consider delegating blog writing to a professional. I am a freelance content writer specializing in long-form articles. I write for a diverse clientele in an assortment of niches, and would love to do the same for you! Reach out to me on LinkedIn if I sound like the content creator you've been searching for.
This article was originally published on LinkedIn.