People often confuse copywriters and content writers. Both are necessary for business success: one aims to sell, while the other educates and builds trust.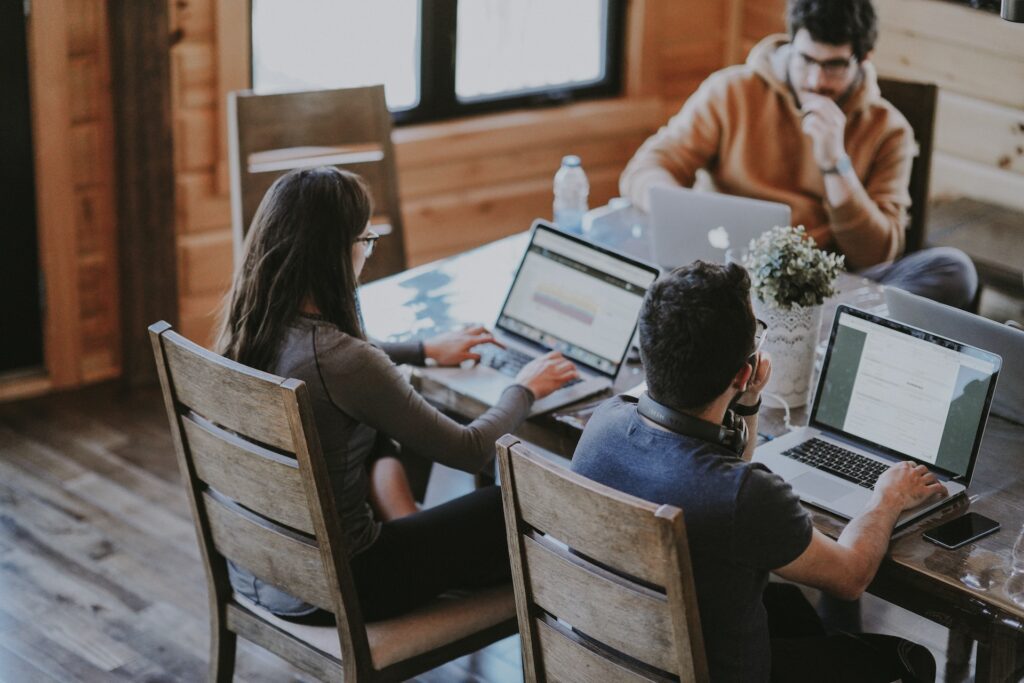 If you are new to the world of online marketing, it is easy to confuse what copywriters and content writers do. They are often used interchangeably, yet they are quite different. While both are crucial to a company's success, what sets them apart? Why is it important to know?
Let's take a closer look at how copywriting and content writing works. By understanding the differences between the two, you can leverage their unique approaches to achieve your business goals.
Copywriting vs. Content Writing: How Do They Differ?
The biggest distinction between a copywriter and a content writer is their roles. A copywriter aims to get people to buy now, while a content writer encourages visitors to learn more.
Copywriters Take a Sales-Oriented Approach
At its core, copywriting sells. Professional copywriters use persuasive language to urge people to buy. They focus on the benefits of a particular service or product. Marketers and business professionals hire copywriters to produce:
Advertisements
Landing page copy
Clever slogans
Short text snippets (i.e. product descriptions)
Email blasts
Source: Cartype
Compared to content writers, copywriters deliver a message in short, punchy sentences. As seen in the above Porsche ad, they evoke emotion and urgency, convincing consumers to buy at the moment.
Content Writers Take a Creative, Educational Approach
Contrary to copywriting, content writing encourages conversation. It's more educational and less about speaking to a prospect's most pressing needs to get them to take action.
Content writers build consumer trust and knowledge over time via:
Long-form blogs
Informative articles
eBooks
Case studies
White papers
Content writing is beneficial in various ways:
Teach your audience why they cannot live without your product or service
Educate people about your niche and business goals
Rank higher on search engines with helpful content
Inform top funnel visitors about how your brand stands out from your competitors
Get down to the details on how you can solve a common problem
Having a blog on your website is a smart way to establish yourself as an expert in your field. Let's say that you are a beauty brand selling creams to fade skin imperfections…
Problem: You have many competitors and need to stand out from them. People may be on the fence about your products.
Solution: Provide a space where they can learn more about your offerings before buying.
For example, an in-depth article about the ingredients you use to fade stretch marks can be insightful. People are more likely to buy something when they understand how it can improve their life.
Consistent, valuable content keeps visitors coming back for more. It builds credibility and makes people's needs clear—leading to conversions over time.
The Bottom Line: Both are Necessary for Business Growth & Success
Sure, content writers and copywriters both write. But they are distinct roles with different skills and approaches. A copywriter drives sales with persuasive short-form copy, while a content writer provides expertise. Expert marketer Fabio Schmuki breaks it down succinctly in a nutshell: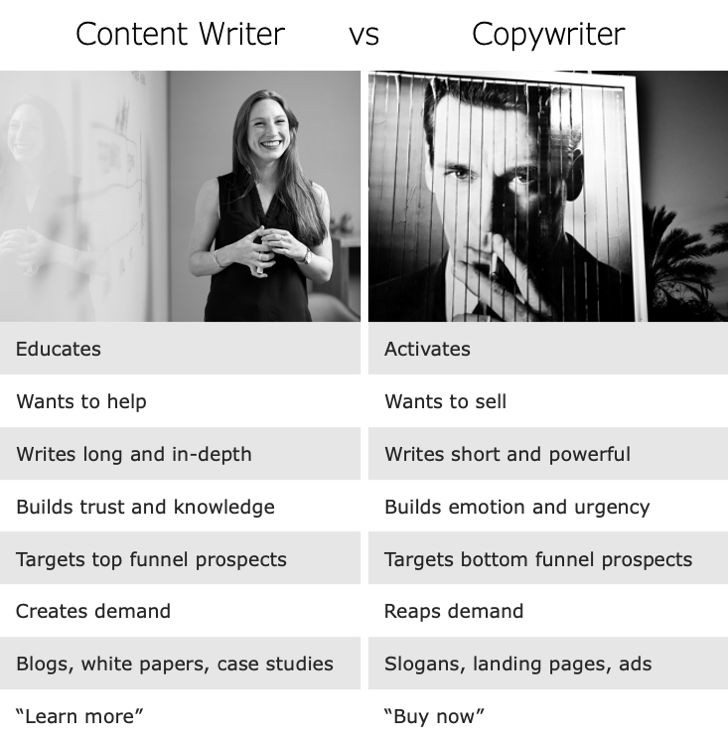 Both kinds of writers can help you build a solid online presence. But before hiring either (or both!), identify your business needs. Do you need an engaging landing page with short, punchy slogans? A copywriter may be better for this project. But if you want to build your blog page with creative long-form articles, a content writer can help.
Let Me Write Your Blogs
Need a versatile content writer that excels in crafting long-form blogs? I may be the unicorn you've been looking for. In my eight years of freelance writing, I have written for businesses in diverse verticals:
Beauty & Aesthetic
B2B & B2C Marketing
Human Resources
Health & Wellness
Remote Working & Freelance Lifestyle
College Education
Home Security & Technology
Fashion & Style Trends
Automotive
Finance & Cryptocurrency
Senior Living
Tourism & Travel
Don't see your niche in this list? I am a seasoned blog writer always up for a challenge. Let's connect on LinkedIn and discuss how I can help fulfill your content needs.
This article was originally published on LinkedIn.