Scaling blog content production is imperative for modern businesses. But producing all that valuable content in-house? It gets exhausting — fast.
That's why 50% of companies outsource at least one content marketing activity. When done right, it lightens your load so you can focus on big-picture tasks.
If you've never hired a freelance blog writer before, you're probably wondering, "Where and how do I begin?"
Truth is, finding and working with a qualified one takes finesse. You want more than just a vendor — you need a partner invested in your success.
So, let's talk about how to find "the one" and get the most out of your partnership.
Step 1: Define your content goals and buyer personas
Before searching for a freelance blog writer, get crystal clear on your goals. What should your content accomplish?
Dig deep into your target buyer personas. What content would captivate them and move them down the sales funnel?
This context helps bloggers craft content that generates results. It transforms vague notions like "go viral" into tactical direction.
Ask yourself:
How will we track and measure content success?
What goals and objections must content address?
What emotions and desires do we need to tap into?
Who are the target buyer personas and their pain points?
What specific business goals will content support (leads, sales, etc.)?
What journey stages are we targeting (awareness, consideration, decision)?
Getting concrete on these aspects lays the foundation for effective content.
Step 2: Build your internal content team
Your internal content team oversees strategy and collaborates with freelance blog writers.
Size depends on content volume, but often includes:
SEO experts who perform extensive keyword research
Editors who tighten and refine freelancer drafts before publications
Content strategists who plan content calendars, topics, and formats
Subject matter experts who provide specialized knowledge to inform content
Content managers who brief and work closely with writers, ensuring brand consistency
Clearly define each role and how they work together. The best way to maximize output without sacrificing quality is by streamlining workflows.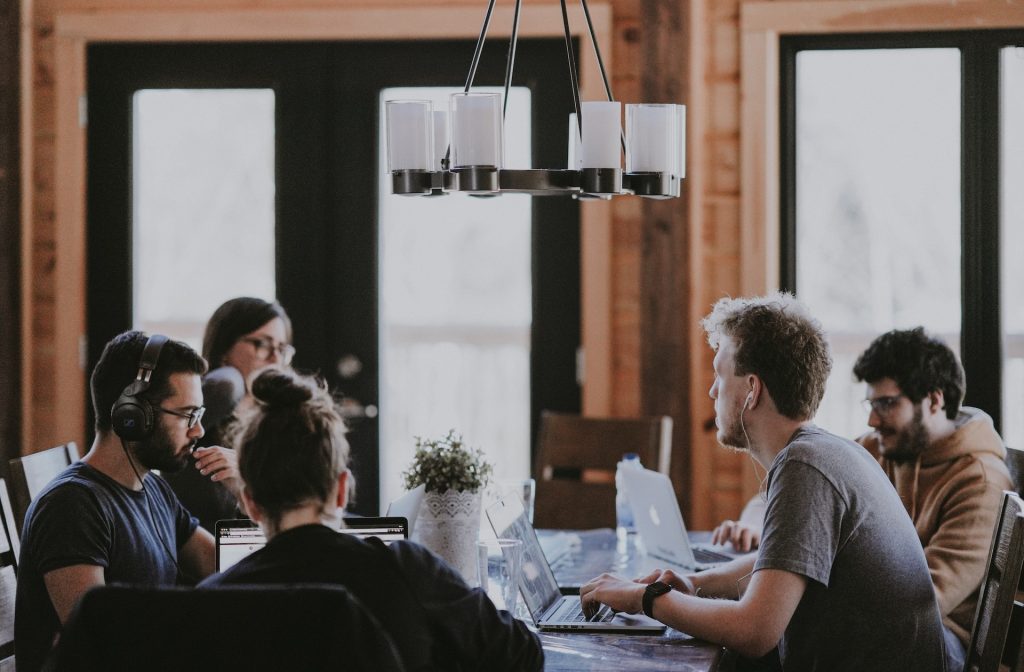 Step 3: Create a style guide
A style guide aligns your freelance blog writer and content team with your brand voice and guidelines.
It covers:
Legal or compliance rules
Proper use of brand assets
Appropriate sources to use
Audience descriptions and insights
Brand mission, vision, values, and personality
Formatting standards (headings, bullets, etc.)
Links to examples of high-performing content
Guide to your distinct writing style and word choice
The more exhaustive your guide, the better — but don't make it unnecessarily lengthy. Make it easy for everyone to refer to it when producing and refining content.
Step 4: Establish workflows
Smooth workflows between your team and freelancers prevent headaches.
Map out each step of your process including:
Content planning and assignment
Kickoff with writers
Feedback and revisions
Final approval
Publishing
Performance tracking
Pro tip: Project management tools and collaboration software like Trello and Slack keep everything moving.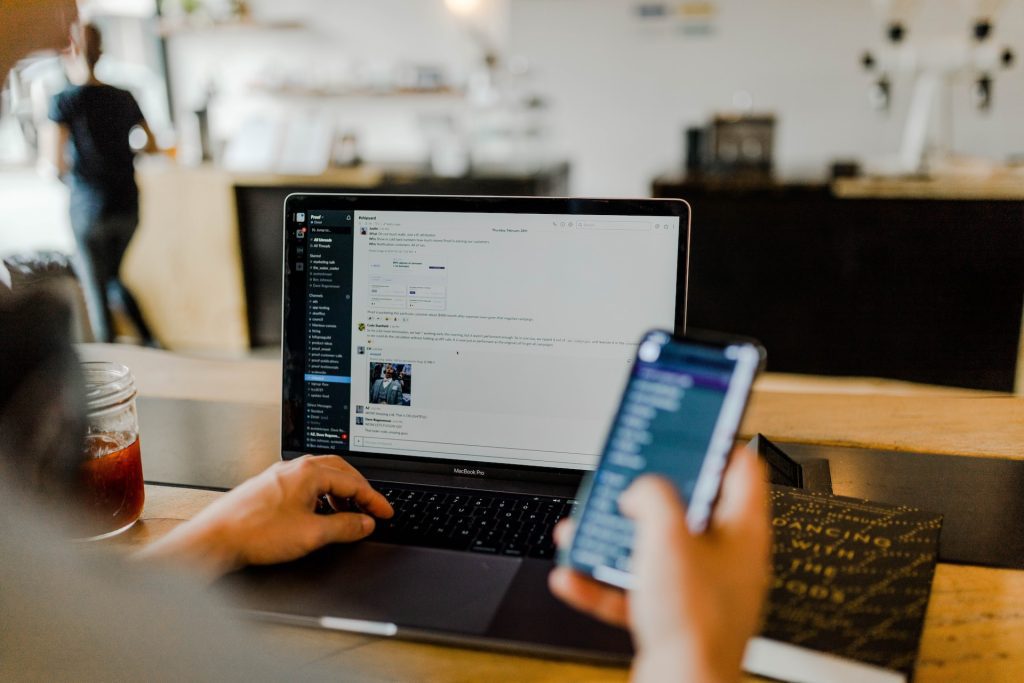 Step 5: Find your talented freelance blog writer
Finding the right freelance blogger requires time and effort. Post on job boards, but also reach out to writers in your niche. LinkedIn is a fantastic place to do this.
Vet candidates through:
Writing tests (assign a paid test piece)
Portfolio reviews (assess skills firsthand)
References (ask about work ethic and reliability)
Finally, offer fair rates to attract top talent. Lowballing leads to high turnover, subpar quality, and lengthy revisions. As a general rule of thumb, you should expect to pay no less than 25 cents per word for great writing.
Step 6: Structure win-win payment terms
Freelance writers are business owners, too. So the payment terms must be a win-win for both parties.
A 50% installment goes a long way in making freelancers feel you value their time and skills. It provides them with some financial security so they can focus on producing amazing content, rather than worrying about getting paid.
You can also agree on milestone payments upon completion of outlines and drafts rather than paying 100% after delivery of the final piece. This spreads the risk over the project lifespan rather than one big payment at the end. Writers appreciate incremental payments as they make tangible progress.
Also, be open to compensating for non-writing tasks that arise like follow-up calls, interviews, competitive research, etc. Hourly billing for time beyond pure writing makes sense here.
Step 7: Set clear expectations
A proper onboarding sets the foundation for shared expectations. After establishing payment terms, it's time to provide your writer with all the information they need to create content.
Do this before — not during or after — the project. Back-and-forth revisions aren't fun for anyone.
To avoid them, communicate your needs and expectations early on:
A brief outline of the expected deliverables (i.e. word count, keywords, and any specific requirements)
Successful examples from other writers you've worked with, or articles on the web you want to emulate (explain why you like these)
A brand guide and/or company handbook (your freelancer needs to know your style, voice, formatting preferences, and goals)
Reasonable deadlines for project milestones (i.e. outline, drafts, final copy)
Norms for communication, availability, turnaround times, tools, etc.
While you may have a clear idea of what you want the finished product to look like, freelancers aren't telepathic. If any of the above is vague, then your writer can't know whether they're hitting your targets.
TL;DR: Having expectations outlined and organized prevents misunderstanding between both parties.
Step 8: Create detailed briefs
For each assignment, provide a comprehensive brief detailing exactly what you need.
Solid briefs include:
Due date
Competitor articles to beat
Tone, voice, and formatting
Business goals for the piece
Main topics, themes, and angle
Keyword targets and search intent
Internal links to cornerstone content
Word count, outline, or draft structure
Target audience and persona specifics
Sources or subject matter experts to consult
Coming up with clear writer's briefs can be time-consuming, but is well worth the effort. Not only is it helpful for writers, but it's also a good exercise to ensure you know what you want before outsourcing the work. Briefing thoroughly prevents misalignment that requires heavy revisions later.
Remember: Writers, even the best ones, aren't mind-readers!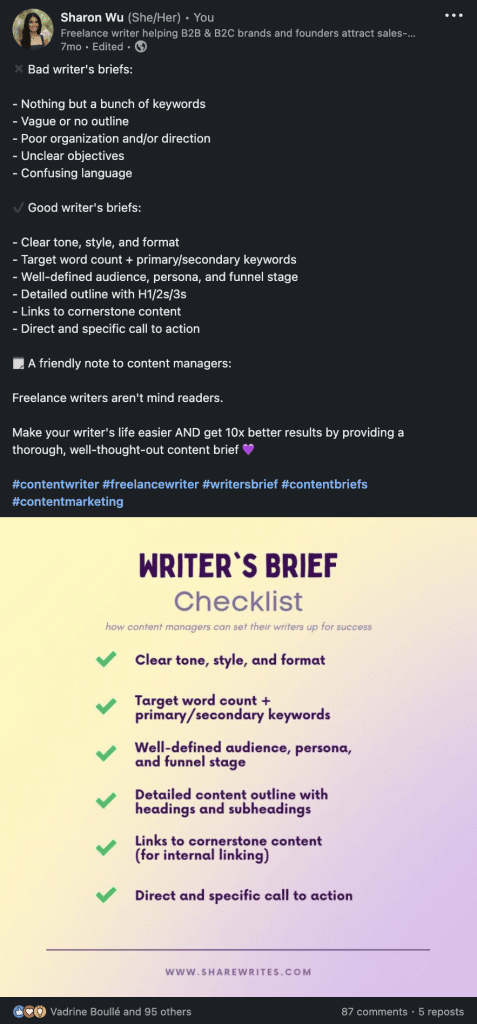 Step 9: Give actionable feedback
When reviewing drafts, make sure your feedback is clear, actionable, and constructive. Start by highlighting what your writer did well and being specific. They'll appreciate understanding where they're hitting the mark for you.
Then, move into constructive criticism on areas needing improvement. Explain issues clearly and politely, while offering suggestions versus vague disapproval.
For example:
Instead of "This doesn't sound right"…
Try: "Could we add a recent source to make this section more authoritative?"
This empowers writers to refine the content to your standards. Remember that freelancers work with multiple clients with unique expectations every day. You can't expect them to know yours if you don't tell them!
As you give feedback, reference your original style guide and assignment goals shared with the writer. Holding work to the project brief you made at the start leads to optimal results.
Finally, if there are no outstanding changes necessary, let your writer know the piece is good to go. Closure is always appreciated.
Pro tip: Use Google Docs to collaborate on articles. Available tools like comment and edit features allow you to exchange feedback and make revisions in real-time.
Step 10: Stay on top of emails (or preferred communication)
Freelance blog writers are working professionals who care about delivering the best work possible. Help them help you by making prompt replies a priority. Even if you don't have a concrete update yet, reply to let them know you're working on one.
Quick responses keep the ball rolling and ensure nothing falls through the cracks. The last thing you want is your writer wondering what to do next. Worse, they may make assumptions about what they should do, which could be far from your expectations.
Last but not least, resolve approvals and make payments ASAP after final deliveries. Freelancers rely on timely compensation so they can continue taking on work.
Get more leads with quality blog content
Consistency is key when it comes to blogging and gaining web traffic. Relevant, engaging articles boost conversion rates by capturing visitor attention. This helps potential customers find and connect with your business — leading to more sales.
Outsourcing writing doesn't mean passing on the job and leaving it at that, though. As a partner, it's up to you to give your writer everything they need to succeed.
The more clarity you offer at the start, the better the deliverables will be. Invest in the relationship and watch your content drive growth!
My clients are buzzing…
Need a freelance content writer who will turn around incredible work at lightning speed?
Here's what people like you are saying about their experiences working with me:
"It was great to see that as soon as we brought it over to our WordPress site, the blog was instantly SEO and readability-ready." – Lauren A., Terryberry
"Finding good freelance writers is challenging. But great writers? That can prove downright impossible. And then there's Sharon. Uniquely gifted in conveying complex, technical topics in a clear and concise way, she can be relied on for just about any writing project. She's a consummate professional, who always delivers on time and is uber-responsive." – Yoni Y., accessiBe
"From writing beauty blogs to writing difficult treatment pages on new and cutting-edge medical treatments, Sharon delivers quality content, with an impressive turnaround time. She has a way of taking blog topics we've written before, and instilling a new perspective on them that is fresh, authoritative, and compelling. Her work rarely needs edits and her self-directed attitude is imperative to our growing business." – Chris Z., Medstar Media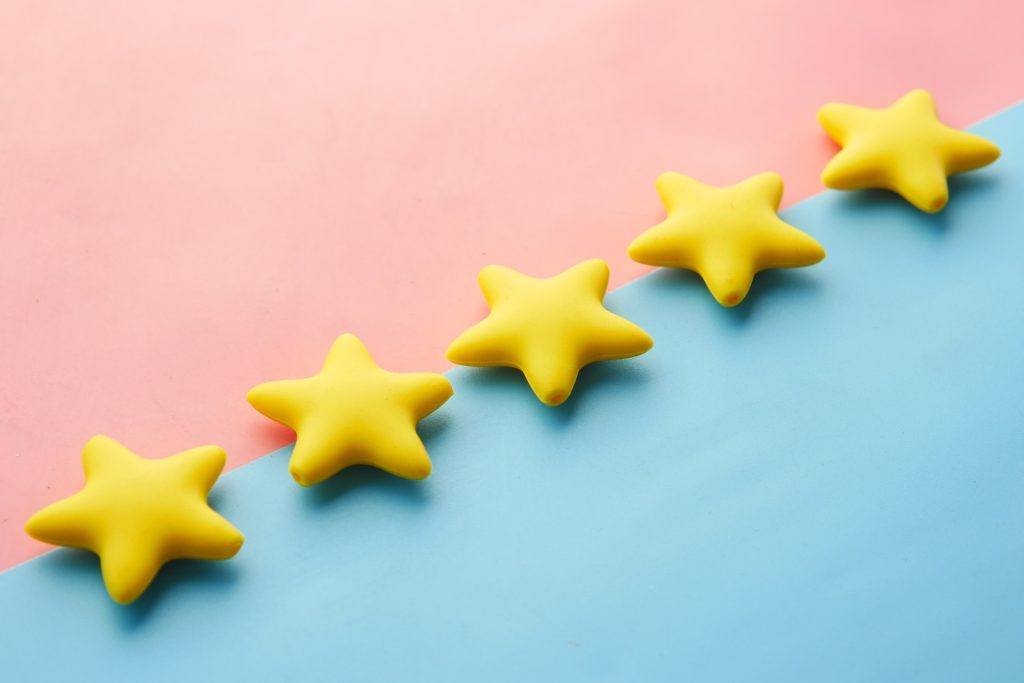 Ready to start a project?
Connect with me on LinkedIn or get in touch via email.
I look forward to learning about your needs and helping you reach your content goals.
Frequently asked questions (FAQs)
Where can I find a quality freelance blog writer?
Find talented writers on LinkedIn, Contra, Clearvoice, and directories like All Things Freelance Writing. Vet thoroughly based on skills, rates, reviews, and portfolio samples.
How much should I pay a freelance blog writer?
Rates vary based on factors like industry, skills, and project scope. As a guideline, expect rates to start around $0.25 per word. For advanced skills like in-depth research or subject matter expertise, be ready to pay higher competitive rates.
How do I keep brand consistency across freelance writers?
Use a comprehensive style guide, consistent editor reviews, and detailed briefs outlining voice and tone. Samples can also help blog writers match your brand.
What tools help manage multiple freelance writers?
Shared content calendars, project management platforms, and collaborative apps streamline planning and workflows.
How can I boost freelancer retention and loyalty?
Respect your freelance writer's time, pay well and promptly, build relationships beyond work, offer growth opportunities, and request feedback. Make them feel valued.
This article was originally published on LinkedIn, but was updated on 10/29/2023.