Maximizing productivity is a struggle for many people, especially those new to running their own businesses.
Working independently means you're responsible for everything — and when there's no boss watching, it can be easy to let things slide.
After a decade of working for myself, I've discovered key strategies for maximizing productivity while working remotely. Establishing boundaries between work and home life can help you stay focused while working from home.
Try my 8 tried-and-true tips to power through your workdays without burning out!
1. Create and follow a consistent routine
When working from home, it's easy to get distracted by household chores, mindless internet surfing, or other things vying for your attention. Without a set schedule, procrastination can set in quickly.
I recommend setting aside specific blocks of time each day to tackle your most important projects. Map out your ideal routine on paper, blocking out work, meals, exercise, family time, and other priorities. Then, do your best to stick to this schedule daily.
Planning your days in advance will help ward off aimless drifting and procrastination.
For example, my routine on most days looks like this:
6 AM: Wake up and wash up
6:30-7:30 AM: Post content and engage with others on LinkedIn
7:30-8 AM: Walk my dogs while listening to a podcast
8-9 AM: Check and answer emails while eating breakfast
9-11 AM: Deep work
11-12 PM: Lunch
12-1 PM: Exercise
1-3 PM: Deep work
3-3:30 PM: Discovery call
… You get the idea. Not every day is the same, but having a predictable routine like this you can base your schedule on helps a ton.
Pro tip: Identify your most productive hours and reserve those for your deep-focus work. Save easier administrative tasks for later when your energy starts to lag.
2. Limit time-sucking distractions
It's all too easy to get sucked into time-wasting activities when working for yourself. Social media, web surfing, and unexpected calls or visitors can quickly derail your day if you're not careful.
I've found that turning off all notifications (hello, Apple Focus Mode!) helps me resist the urge to constantly check my phone or mindlessly browse.
When I need a break from focused work, I'll step away from my computer completely. A quick walk, stretch, or a quick pool lap is often far more rejuvenating than doomscrolling.
3. Get outside
Sunlight is vital for health and well-being. It helps your body produce vitamin D, which is necessary to absorb calcium and maintain healthy bones.
According to Harvard Business Review, a study found that 47% of workers feel tired from the absence of natural light in their office. 43% feel depressed because of a lack of natural light. Consider setting up your desk near a window or going outside every once in a while. Getting natural sunlight throughout your workday can give you an instant boost.
If the weather is nice out, set up your "office" by the pool or on your patio to enjoy the sun while crossing things off your to-do list.
4. Separate your home office from your living space
If you're like me, your home (office) is also where you eat, sleep, and relax. And while it's nice to have all these activities in one space, it can get messy fast. When your workspace is also where you relax and unwind, it's almost impossible not to get distracted.
For optimal productivity, it's crucial to separate your living and working environments as much as possible.
Ideally, convert an extra room into a home office. If that's not feasible, try:
Creating a designated workspace within a room, such as a corner with plenty of natural light
Using organizers, shelves, or partitions to define the boundaries
Sprucing it up with some of your favorite things that spark joy
5. Switch up your workspace
Working in the exact same environment day after day can eventually lead to boredom and a lack of inspiration. That's why I love to change my scenery at least 1-2 times a week.
I do this by working…
Outside on my patio or balcony when the weather permits
At a hotel or in the car on a spontaneous road trip
At a coffee shop, co-working space, or library
At the beach (with my mobile hotspot)
If you're a service-based business owner, switching it up is easy with a laptop and reliable internet connection.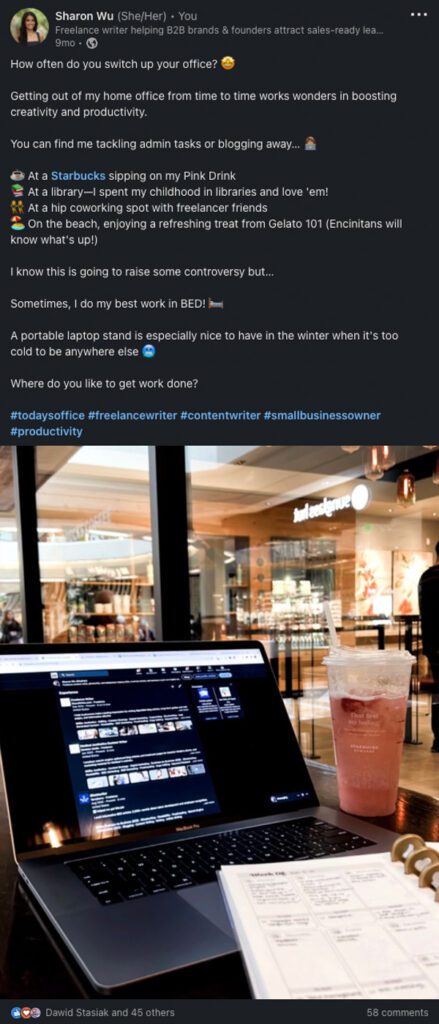 6. Recharge your brain and body
You've heard it before — health is wealth. So remember to nourish your body and take breaks. Many of us are guilty of getting caught up in work, especially if we have a jam-packed schedule.
Make a conscious effort to take care of your basic needs, no matter how busy you get:
Balanced nutritious meals
30-45 minutes of movement
8 hours of uninterrupted sleep
Finally, make it a point to step away from your desk at least once an hour. Give your body a nice stretch, a short walk, or a breath of fresh air before diving back into your tasks. Block off time for these breaks on your calendar if you tend to forget them.
My favorite ways to unplug and recharge?
Go on a short drive
Give myself a mani/pedi
Swim a few laps in the pool
Meet a friend for Starbucks
Take my dogs out for a walk
And sometimes… the best way to rest is to take a good nap.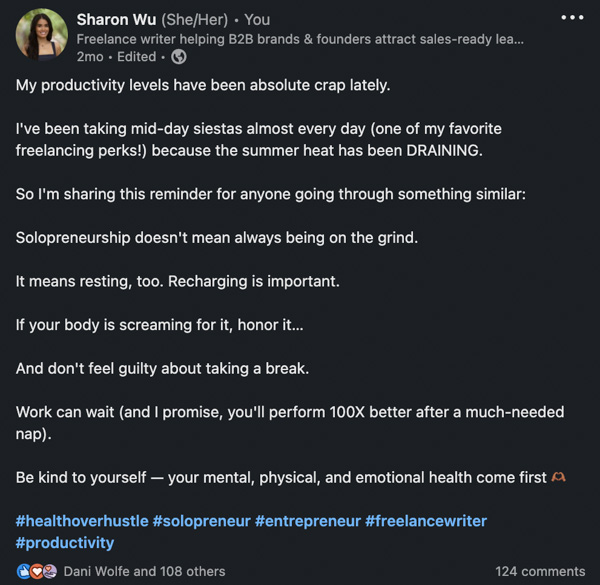 7. Use helpful productivity tools
The right apps and software can make a big difference in keeping you organized and on track when running your business solo.
Some of my favorites include:
Slack to communicate with clients worldwide
Trello to manage projects and track progress
Mailtrack to see if email recipients opened my messages
Text Blaze to cut emailing time in half with pre-written templates
Google Drive as a hub for all essential documents, assets, and projects (that I can share with others and collaborate on if needed)
Take time to research and test out tools that fit your workflow and productivity preferences. If it helps, I created a carousel on LinkedIn sharing more of my favorites (many of them are free!):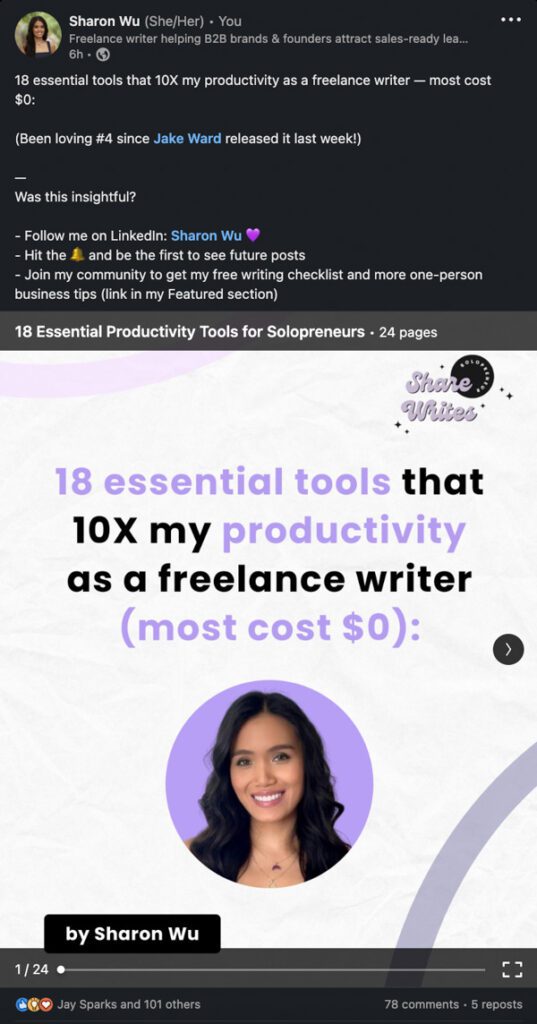 8. Set clear boundaries
To maximize your productivity over the long haul, set boundaries between your work and personal life.
For example…
Communicate your availability to others so they know when you're "open" or "closed" for business.
Block off time on your calendar for meals, breaks, exercise, family time, etc. Then honor this time.
When your defined workday ends, step away from your computer completely. Do activities you enjoy to decompress.
Unlock your maximum productivity potential
Implementing these strategies — like building a routine, avoiding distractions, recharging properly, using helpful tools, and setting firm boundaries — will empower you to maximize productivity as a solopreneur.
Ready to kick procrastination to the curb?
Start today by:
Defining a schedule catered to your needs and energy levels
Exploring potential productivity tools to streamline your workflow
Continuously refining your approach until you find that sweet spot of productivity and work-life balance
The dream to work for yourself without burning out is attainable, but it takes deliberate effort.
So, be patient, yet persistent. Stay focused on your big-picture goals. And don't forget to re-evaluate and reset when needed.
Want more advice on achieving solopreneurial success?
You'll love my newsletter — join my community to get insights delivered to your inbox every Wednesday.
This article was originally published on LinkedIn, but was updated on 10/17/2023.