Crafting compelling content is non-negotiable in today's digital world. But doing it well takes serious time and skill. Between research, writing, editing, optimization, and promotion… it's just not practical to obsess over every detail.
The good news? You don't have to.
I've curated a list of 11 useful (and free!) writing tools to streamline your workflow. These will help you work smarter, not harder — when writing blog posts, articles, guides, and more.
Whether you're a marketing professional, freelance writer, or small business owner, these resources will cut hours from your process of producing stellar content that attracts and converts readers.
1. Grammarly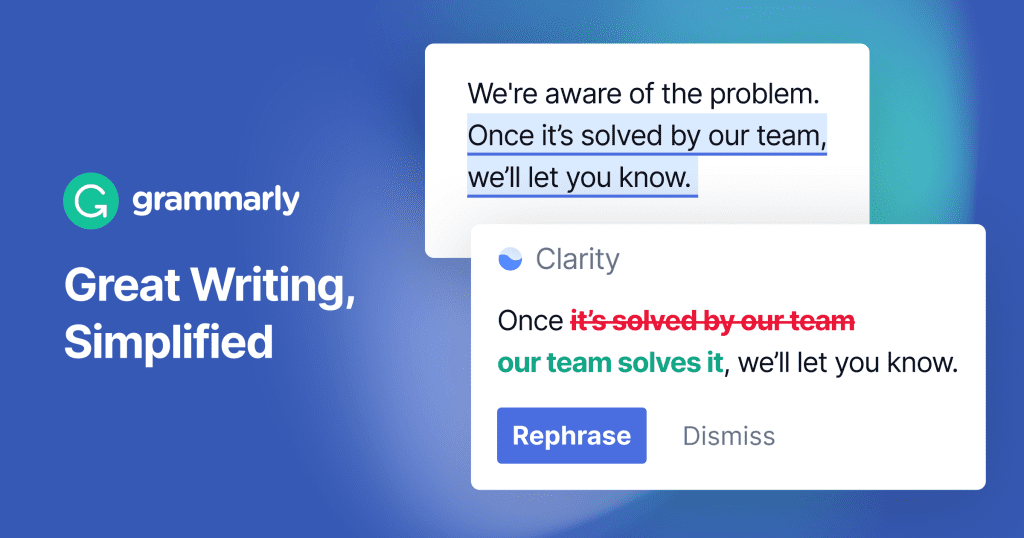 We'll start with a classic old favorite…
Grammarly is the gold standard for catching grammar, punctuation, and spelling errors on the fly. It even makes editing suggestions to clarify muddled sentences so your writing shines.
The free version is great (it's the one I use). But investing in Premium gets you plagiarism detection, vocabulary enhancement ideas, and a tone adjustment feature.
Bottom line?
Run all your content through Grammarly before hitting publish. Or, if you're like me, enable the Chrome extension so it can work in real-time while you write in Google Docs.
2. Hemingway Editor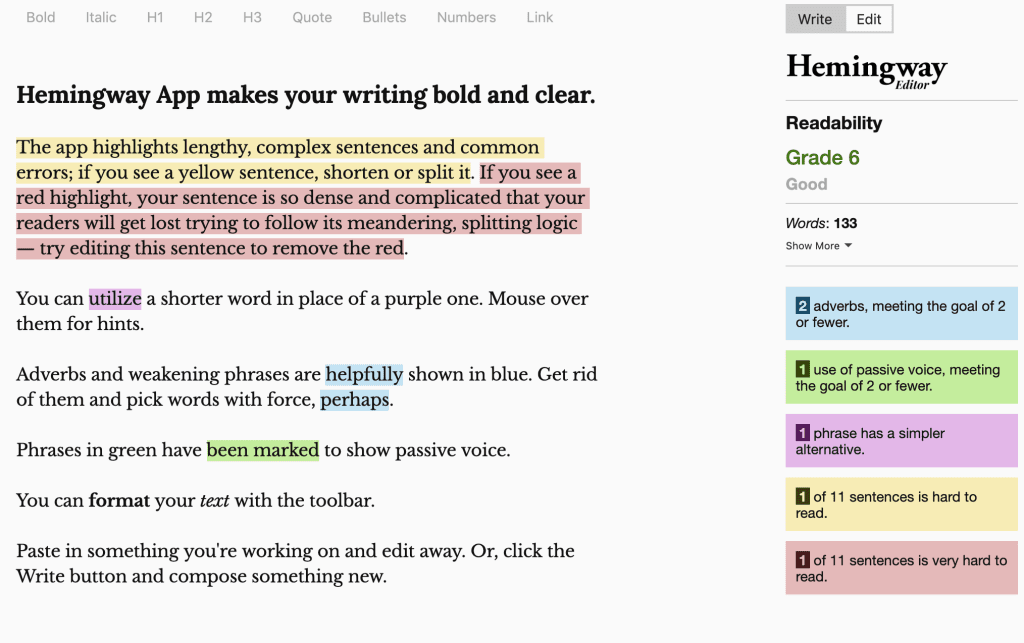 Ernest Hemingway wrote using short, simple sentences. The Hemingway Editor highlights areas where you can simplify text for clarity.
The tool color-codes complex, hard-to-read sentences. It also flags awkward phrasing, passive voice, and unnecessary adverbs. Following its guidance results in straightforward writing more people can understand.
I run blog posts and articles through Hemingway to ensure they're concise and readable. The grade level score helps me keep content accessible without "dumbing down" the message too much. I aim for a 7-8th grade reading level.
3. ISITWP Headline Analyzer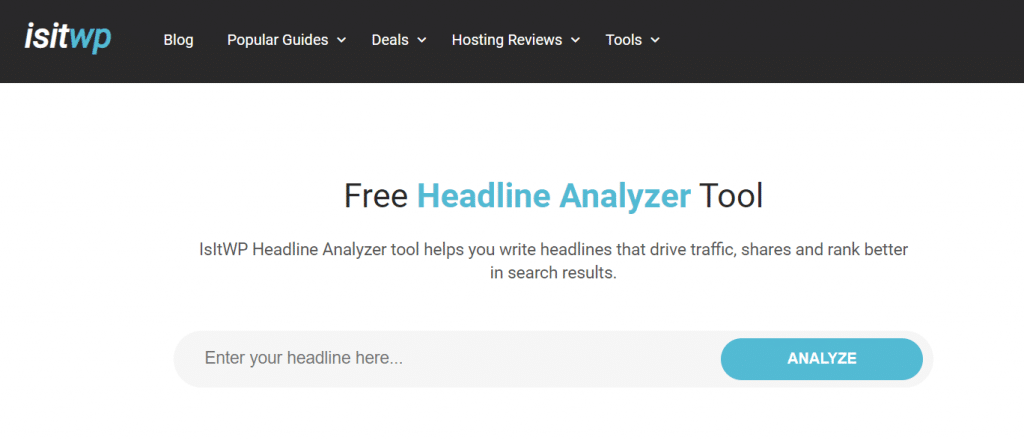 Coming up with irresistible headlines is paramount for content success. That's why the ISITWP Headline Analyzer is a writer's BFF.
This tool evaluates your title on key elements like length, keyword use, and emotional impact. Then, it rates how your headline stacks up against clickable top performers.
I tweak my titles based on the feedback… until I come up with a killer one that grabs attention.
4. WordCounter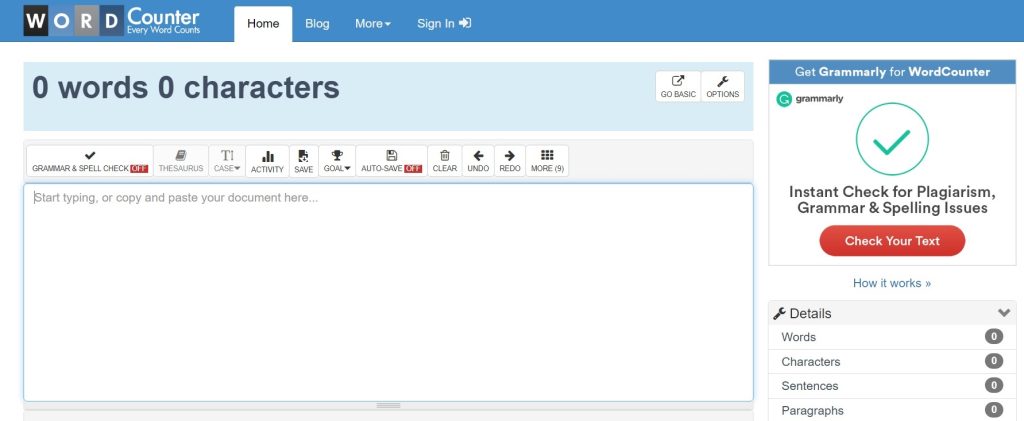 If you need to produce content with specific word counts or character counts, WordCounter is a must-have.
It displays your word count as you type or paste text in. I personally start on a Google Doc and move the text over to WordCounter after.
For meta descriptions, WordCounter helps me craft precisely optimized snippets within the recommended character limit.
Super handy.
Remember: Target word counts should be just that — targets, and not a rigid guideline. With WordCounter, you never have to wonder whether you've hit the target length.
5. Small SEO Tools Plagiarism Checker
As a writer, the last thing I want is to accidentally plagiarize someone else's work. This simple plagiarism checker scans your draft and highlights any duplicated text found online.
Even though I write my content from scratch, it's helpful to run it through for peace of mind before hitting publish. Originality is so important, and this tool helps me maintain my integrity.
Note: The free version caps at 1,000 words. If you write long-form content like I do, you'll likely have to break your post into a couple of rounds unless you opt for the paid version.
6. Wordtune
WordTune is a free Chrome extension and AI editor that makes suggestions to help you find the perfect phrasing. You're allowed up to 10 free rewrites per day.
I often rewrite sentences based on WordTune's recommendations. It catches clumsy, repetitive language and suggests smoother alternatives using more natural wording.
Beyond sentence-level edits, WordTune can expand on concepts when you're stuck. Outline new ideas related to your draft for inspiration.
The tool also analyzes your writing style and helps adjust it.
Struggling with active vs. passive voice? WordTune can make your content sound more authoritative.
Want a more conversational tone? It'll rephrase sentences to help you achieve the voice you desire.
7. Tweet Hunter X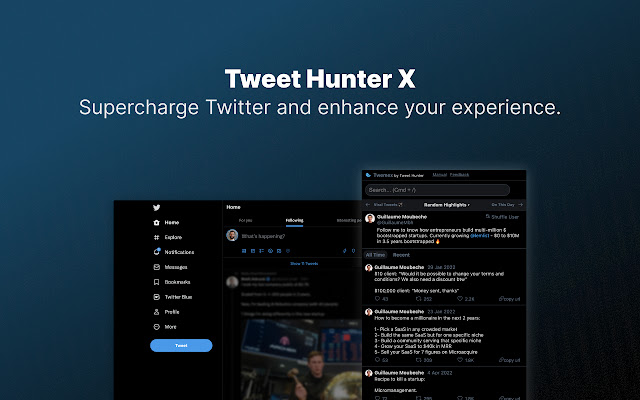 I don't know about you, but I get some of my best blog content ideas from Twitter.
The problem? Sifting through Twitter manually gets tedious…
That's why I love the Tweet Hunter X Chrome extension. It lets you search any keyword or phrase (from any creator's account) and instantly see the best, most shareable tweets related to your topic.
Total game changer for ideation.
8. Glasp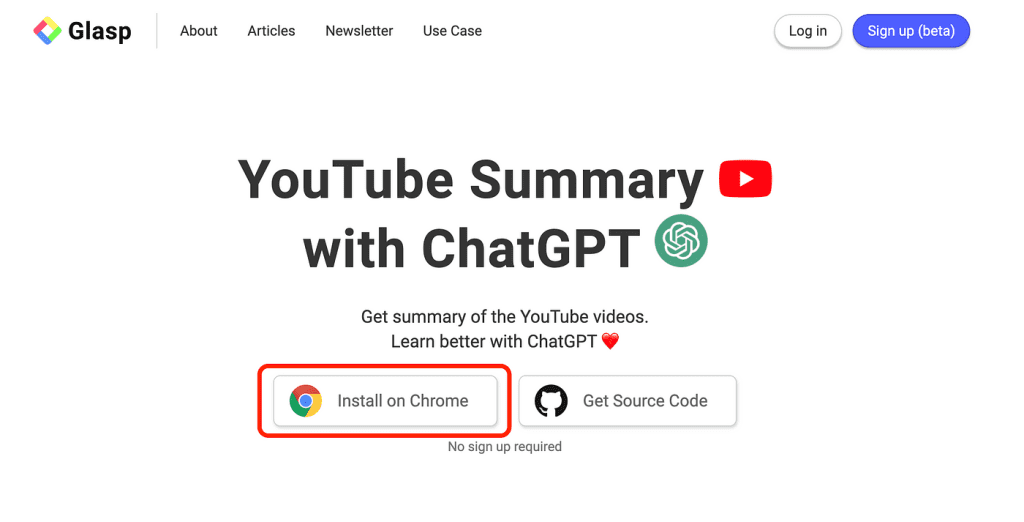 While we're on the topic of Chrome extensions… Glasp is another I can't live without.
With it, you can click on any long-form YouTube video and get a summary of key points in text format via ChatGPT.
This AI-powered tool literally breaks videos down into the most important snippets. It's incredible for research — I can get the gist of a video in seconds instead of 20-45 minutes.
9. ZeroGPT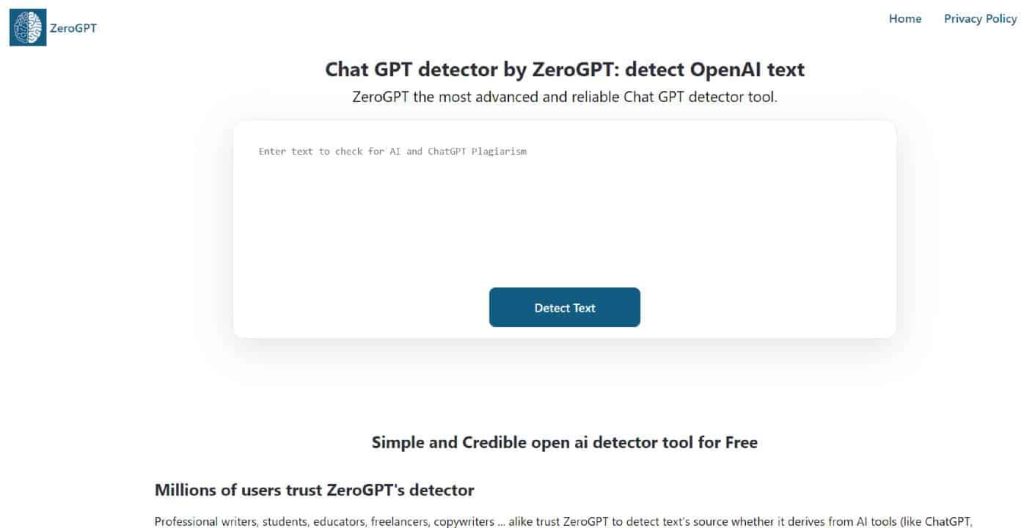 With AI content generation tools like ChatGPT gaining popularity, companies want to avoid including AI-written text in their campaigns.
The concept of this tool is similar to a plagiarism checker but for AI.
ZeroGPT scans your draft and highlights any snippets that seem "AI-generated." It's not foolproof, but I use it for peace of mind to ensure my content is original.
Note: As of October 2023, Google doesn't penalize AI content as long as it's helpful and addresses search intent. Still, some publications are strict with not using AI content, so this tool is invaluable to ensure 100% original content.
10. Ahrefs Keyword Generator

Identifying high-potential keywords and related long-tail variants is essential for SEO success.
Ahrefs Keyword Generator makes this easy by showing monthly search volume data for any seed keyword you enter.
This helps me optimize content around keywords people are actually searching for.
Remember: Blogging just to blog isn't enough. It's only effective when you can solve people's problems with your content. Targeting the right keywords helps them find your helpful answers.
11. ChatGPT

Okay… let's be real for a minute. No tools list these days is complete without ChatGPT, right?
And no, before you ask — I don't use ChatGPT to write my blogs for me.
I use it more as a virtual assistant to:
Brainstorm new ideas
Create content outlines
Expand on existing ideas
Rewrite awkward sentences
Get synonym and antonym ideas
Refining tone & voice in the editing phase
Break down complex concepts in lay terms
The list goes on.
But use your best judgment with this and don't rely too heavily on it for the actual content creation…
Strictly AI-produced content is easy to spot these days.
Refine your writing with these game-changing tools
The path to online writing mastery is clear. Embrace these free tools that streamline ideation, tighten prose, and perfect publishing.
Don't settle for average content that fades into background noise. Use what the pros use to produce head-turning blogs, social posts, and articles that spark engagement and deliver results.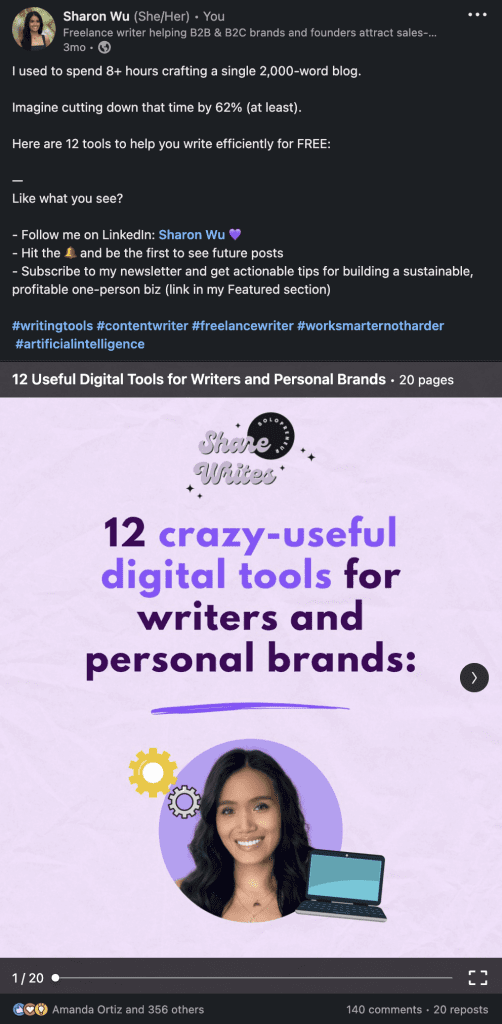 Thousands rely on these free resources daily — why not join them?
Let me know which ones become your favorites and if you discover any others worth sharing!
Craving more cool business and writing insights?
Join my community to get my free writing checklist and an email from me every Wednesday morning.
Frequently asked questions (FAQs)
Can free writing tools help avoid plagiarism?
Yes, using a free plagiarism checker like the one by Small SEO Tools is a smart way to verify your work is 100% original before publishing. This avoids accidental plagiarism that could damage your reputation.
Do I need paid versions to get value from writing tools?
No, the free versions of these writing tools provide enormous value on their own. Upgrades offer helpful extras but aren't necessary. Use the free options first to see if they meet your needs.
How can I improve my writing style and voice?
Besides writing often, consistent use of free writing tools trains you to self-edit more meticulously. Over time, this improves sentence structure, word choice, clarity, and concision. Finding your unique voice takes experimentation and practice.
Can free writing tools replace human writers and editors?
No. While AI-powered writing assistants are advancing, they can't fully replace human writers and editors. Free tools simply provide guidance — writers still need to exercise judgment. Use them to augment, not replace writing and editing.
What separates average writers from exceptional writers?
Exceptional writers stay hungry to keep improving. Unlike average writers, they embrace new technology like AI as a tool to enhance their skills, not replace them. These writers also dedicate time to deliberate practice, reading, and upskilling to hone their craft.